Welcome to Canwood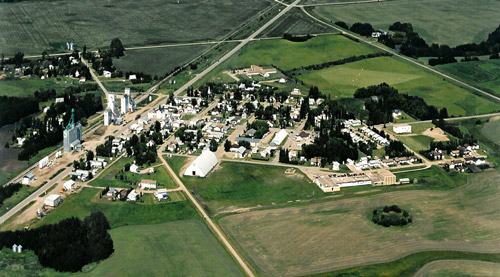 The Village of Canwood, population 332 (2016 census) is ideally located 45 minutes North West of Prince Albert, beside the Canwood Provincial Forest and a large amount of farm land. Settlers began arriving in the area in 1904 and the building of the railway in 1910 brought many more to the area. The Village, first know as Second Siding, Forgaard and McOwen, was incorporated as the Village of Canwood in 1916.
The ideal location and variety of services offered, makes Canwood a good choice for people looking to get back to small town life. We offer a variety of essential services, from groceries to health care, and are also close enough to the big centers that travel is convenient.
There is never a lack of something to do within the Village. The Senior's offer a variety of programs for people to take part in weekly, such as cards, bowling league and meetings with clubs from other towns. As we are fortunate to have a Community School in our Village, they provide a variety of activities for not just the kids to take part in, but also other community members as well, regardless of whether you have children attending school. With the golf course located minutes away from town, one can easily pop out there for a round after work, or with a lake located within a 15 minute drive, go catch a few fish for your supper.
If you care to venture further, there are a vast number of lakes located within an hour drive of the Village. These lakes offer an abundance of fishing, camping, resorts, cabin rentals, golf courses, food services, stores, cross country ski trails, quadding trails, ball diamonds, reunion grounds and pretty much anything else you may be looking for. Imagine all that virtually on your doorstep! It is an outdoors person's paradise.
The residents of the Village take a very active part in their community and the spirit of volunteerism is very much alive here. This can be seen by the creation of a park area on our Main Street that was nothing more than a vision two years ago. This area is now landscaped, has sidewalks, trees and in the Spring of 2012 will have picnic tables and benches for a rest area. As with most small places, volunteers are an essential part of the community and are always looking to give back whatever is possible.
Besides our Community Clinic and pharmacy located in the Village, we are only 15 minutes away from Shellbrook, which is in the process of building a new hospital that will be able to offer all of your primary health care needs.
2016 marked our 100th anniversary as being a Village. Canwood has seen many changes during this time, however it still remains one of the best places to call home and raise your children. Our Anniversary celebrations were held on the August long weekend, July 29, 30, 31 and August 1, 2016.
Whether you are looking to get back to your roots or just wanting to live in a place where you know your neighbor's names, Canwood will have an abundance to offer you.