Medical Services for Canwood:
Besides our Community Clinic and pharmacy located in the Village,
we are only 15 minutes away from Shellbrook, which is in the process of
building a new hospital that will be able to offer all of your primary health care needs.
The Canwood Community Clinic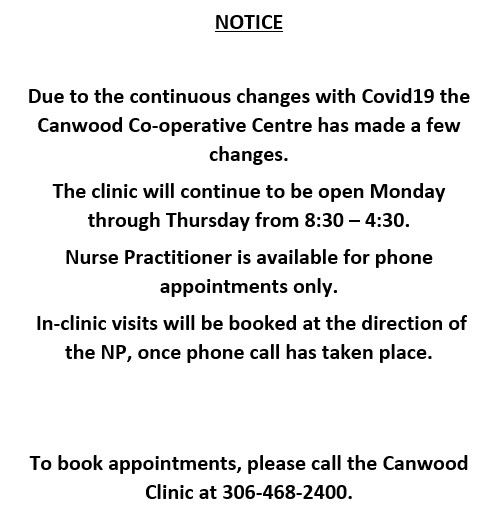 The Canwood Community Clinic provides the following services from the Co-operative Health Center Prince Albert:
Physicians/Nurse Practitioners Services
Office hours: (See Notice Above)

Mondays - 8:30 - noon and 12:30 - 4:30
Tuesdays - 8:30 - noon and 12:30 - 4:30
Thursdays - 8:30 - noon & 12:30 - 4:30 (note no doctors or Nurse Practitioners)
Fridays - 8:30 - noon and 12:30 - 4:30
Lab Services - Every 3rd Monday
Dietician from PA Community Clinic - Monthly Respiratory Therapist - Monthly
Baby Clinics - 2nd Wednesday each month
CALL ANYTIME DURING OFFICE HOURS FOR APPOINTMENTS AT (306)468-2400
Wellness Clinics
The Prince Albert Parkland Health Region has made the very difficult decision to temporarily suspend Wellness Clinic services as of February 1, 2017. This decision is the result of the increasing demand for home care services throughout the Prince Albert Parkland Health Region. See Letter Here
Pharmacy
Mon to Friday 9 am – noon, 1 pm – 5 pm
Parkland Intergraded Health Centre
Located in Shellbrook, SK
(306) 747-2603
First Responders
There are five first responders in Canwood. In order for these people to maintain their certification as first responders they must attend a Continuing Education practice sessions at the least once a year. They must have so many credits when it is time to re-register with Saskatchewan Health every two years.
If you would like to become a first responder or have questions please contact
Angela Sereda at Spiritwood Ambulance (306) 883-2500
or visit www.spiritwoodambulance.ca
Volunteer Fire Department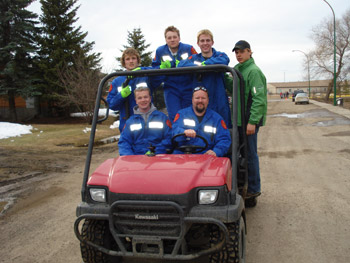 Some volunteer members during the 2011 flooding.